Edoardo Ballerini was looking for a new headshot—you may recognize him from around the Rivertowns, RiverArts events, or from his acting career with roles in "The Sopranos," "Boardwalk Empire," and more. He discovered Camila Montanhani of Living Notes Brands through the HudCo newsletter and produced these great shots with her earlier this summer. We took this opportunity to share the shoot and ask him a few questions for the HudCo Journal, and I compiled a playlist of some of Edoardo's audiobooks over at my Picture Book libro.fm shop, please check it out!
—
Before I met you here at HudCo, I knew your voice as an audiobook narrator. You've narrated over 400 books, some of which I've collected on this playlist, and are a two-time winner of the "Audie" Award. One of my favorites that really brought me to love the audiobook medium was the full-cast narration you were part of for Téa Obreht's Inland. Could you tell us how you first got into audiobook narration, and a couple of your favorite projects?
It happened a bit by accident. I'd never considered audiobooks as a career path, but somebody asked me to record a book, and I was intrigued by the artform. I was then fortunate to have some early success, thanks to a book by Jess Walter called Beautiful Ruins. My audiobook version took off, even outselling the print for a while, which was unheard of at the time. Then it all just took on a life of its own, and before I knew it I was being asked to record all kinds of things, from Dante to Dean Koontz. It worked out well, actually, because my kids were little, and I was able to make my own schedule. Before that I'd been filming on locations, which sounds glamorous, but isn't all that easy when you're starting a family.
As to favorite projects, there are several, but two recent ones would be Amor Towles' The Lincoln Highway and Cormac McCarthy's Stella Maris, his final work, which is really a two character play. Julia Whelan and I co-narrate. It's dense, but works really well in audio. Julia is terrific.
You also have an impressive career as an actor, and are a member of SAG-AFTRA. Is there anything you think we should know about the current strike?
Yes, I worked on-screen for many years, and still do. The highlight of that side of my career would have to be a small but memorable recurring part on "The Sopranos." The strike is unfortunate but necessary. The imbalance between employers and employees has reached unsustainable heights. Or lows, more accurately. Fortunately for those of us who work in audio, that work is not affected, so I can continue to record audiobooks. But it's a painful time for actors in general.
You are traveling to Italy soon, as you do most summers. Do you have any travel tips you can share?
I spent all my summers in Italy as a child, and try to bring my own children there each year. We also try to add in other countries while we're in Europe. Last year was France, this year is Denmark. I want my kids to know about this incredible continent just across the ocean. If I had any advice about visiting Italy it would be to go in the winter or spring. The weather is better, especially these days, and the lines are shorter. And if you go off-peak, you really see the country as it is, not as a tourist destination.
Are you taking any books with you on your trip?
I always bring books with me! I'm old school. I like physical books, but this year I'll be taking some PDFs so I can mark them up on an iPad. I have to record an 800 page work by Karl Ove Knausgaard, one of my favorite writers working today, as soon as I return, so that's most of my summer reading…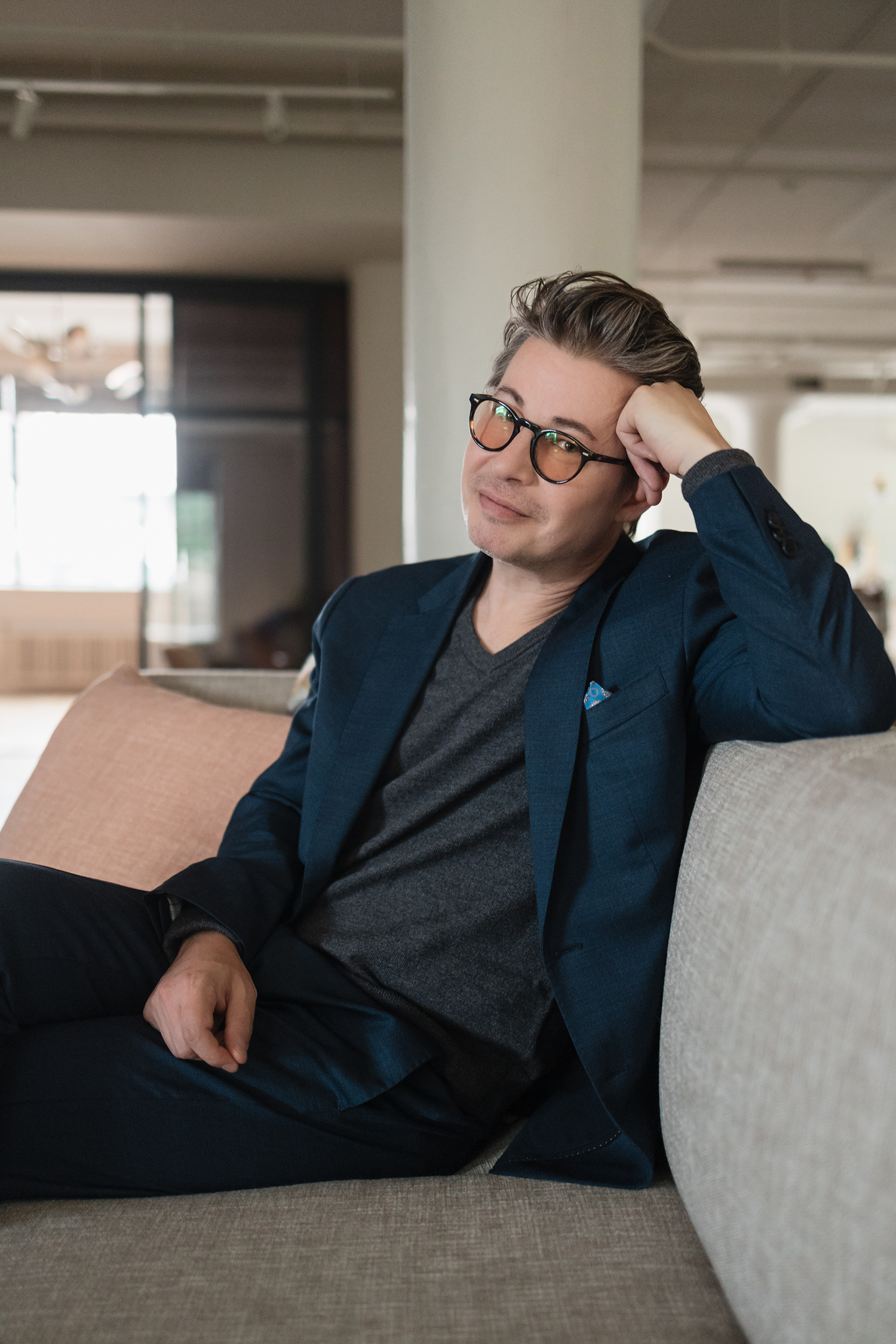 What brought you to settle down in the Rivertowns?
We were living in New York City, where I grew up, and thought I'd live forever, but then child number two came along, and our apartment suddenly felt really small and, well… it's a familiar tale. Even so, I was somewhat resistant to the move at first. As a city boy, the thought of "the suburbs" made me queasy, but I've been delighted to find a vibrant community of artists and creatives. And space! I do miss the city at times, but I can't imagine living there right now.
Do you have any favorite local businesses or organizations in the Rivertowns?
I've done some readings and performances with RiverArts, and I like their mission and how they go about things. And of course HudCo. What a gorgeous space, and such a terrific place to work.
Any projects you are looking forward to in the Fall?
I mentioned the Knausgaard, which tops the list of things to record, but I'm also heading in two new directions this year. First off, I've been asked to teach a course at my alma mater, Wesleyan University. It came quite by surprise, but I'm thrilled about it. And nervous. I've also been working on a project of my own, which is why you see me at HudCo from time to time. I don't want to say too much about it just yet, but if it works out as I'm hoping, I'll let you know. It should be an interesting Fall.