While I may have started posting my daily walks on Instagram during the pandemic, I've been at it for years. (Well, if I'm being honest, not always daily, but as often as possible.) I find that aside from the obvious—it's good exercise and get your steps in—it's also a great way to catch up with a friend. Even though it's super easy to stay in and procrastinate, once I get out, never do I regret taking a walk. It always makes the day better.
Maybe you're new to the area, up from the city for a few hours, or just looking for a way to get out of the house away from that pile of work on your desk or want to listen to the latest episode of The Daily. Go for a walk! There are thousands of places to for a stroll, power walk or easy hike here in Westchester. I want to share my go-tos—the ones I head to without a plan or map.
Ed. Note: Longtime HudCo members Robin and Elizabeth curate such wonderful New York experiences—sign up for their newsletter for more content like this and follow them on Instagram to get great ideas for your family and friends.
The Juhring Estate, Dobbs Ferry
One of Dobbs Ferry's hidden woodland wonderlands, this 75-acre nature preserve has several short and fairly easy hikes easily accessed from a few streets in the neighborhood. It also may or may not be a secret place to go foraging for ramps when the season is right.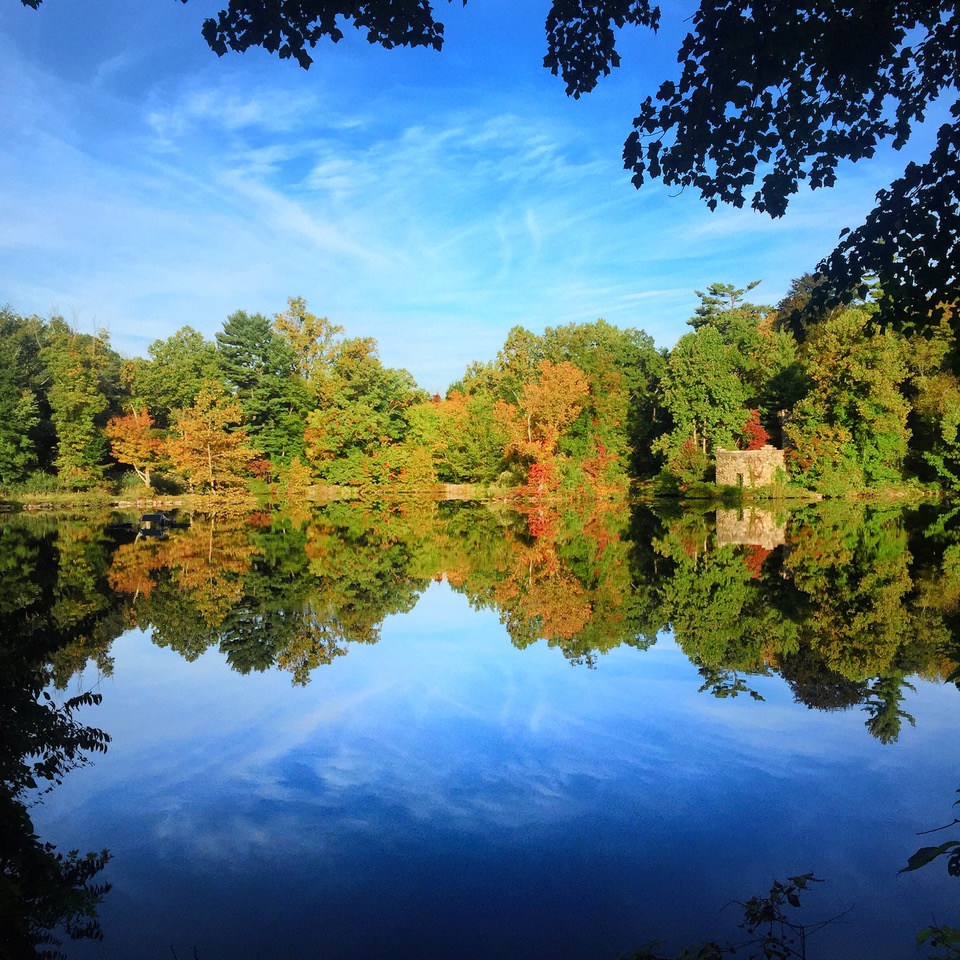 Halsey's Pond, Irvington
Considered Irvington's best kept secret. The tranquil little loop is one mile. Perfect for an easy stroll or a dog walk. There are three official entrances, but since it is surrounded by woods I like to walk on hidden trails between neighborhoods.
Rockefeller State Park Preserve, Sleepy Hollow
Rolling hills, winding trails and huge pastures with big skies. It's one of the places in Westchester that makes me instantly feel like I am far, far away. That being said, it's also a super popular spot for runners, hikers and even horses, and probably the most well-known place to walk in the area. Because it is so big, as long as I venture away from Swan Lake Loop, it never seems to be too crowded.
Tibbetts Brook Park
An oldie but a goodie, located between the Saw Mill River Parkway and Midland Avenue in Yonkers—I just learned that this is one of the first developed parks in Westchester County. Because it was designed by Frederick Olmsted (aka the designer of Central Park and Prospect Park), walking the 2.2 mile loop somehow manages to feel like both a NYC city park and like you are on a farm in the countryside. Summer is primetime at the aquatic center there, so if I want a peaceful walk, I visit in cooler weather.
Irvington Woods, Irvington
The Irvington Woods are literally in my backyard! Hundred of acres, miles of trails, the largest forested area in Southern Westchester, but it's practically unknown to most people. From its history related to FDR's Civilian Conservation Corps to a legendary hermit's grave on the grounds, it's truly a local gem. You can read more about it with the link below, download a trail map here, and find step by directions for the 5 mile loop here.

Scenic Hudson Park at Irvington
Look to the left and you'll see the city skyline. Look to the right and you've got a view of the Tappan Zee Bridge. With unobstructed views of the Hudson River, everywhere in between. This little park is perfect for a flat paved half-mile loop that you can circle once or multiple times.

The Old Croton Aqueduct
When I refer to my "go-to's" this is truly my everyday go-to for a run or a walk. The round trip from Irvington to Dobbs Ferry and back is 3 miles; Irvington to Lyndhurst and back is 3 miles. GLNY's co-founder Elizabeth's daily 'go-to' is the Hastings to Dobbs leg (about 2 miles). The entire trail spans from Yonkers to Croton and is more than 26 miles. 

Rockwood Hall, Sleepy Hollow
This is the less visited neighbor sibling of Rockefeller State Park Preserve, located just north of Phelps Hospital on the Hudson. With its sweeping views of the river, it's a truly magical place. William Rockefeller's Gilded Mansion once stood here, and while there's just a few stones remaining marking its foundation, the grounds are now a public park. Great for a picnic, or a stroll along the water.

Lyndhurst Mansion, Tarrytown
I feel like I'm stepping back in time when I walk the Lyndhurst grounds. To visit the actual mansion, you have to book ahead for a tour, but the grounds are always open to visitors (unless they're filming HBO's "The Gilded Age" or hosting the Westminster Dog Show!). If you arrive by car, you'll need to pre-purchase a Daily Grounds Pass but walk-ins are free. 

Riverwalk, Tarrytown (south of bridge)
This is probably my most frequent walk of all, and it hits three spots. The Riverwalk starts just south of Lyndhurst on the OCA trail and cuts through the grounds of Lyndhurst, onto a paved path along the water up to the Tappan Zee Bridge. Keep an eye out for a lovely waterfall on your right if you can tear your eyes away from the Hudson River view. 

Riverwalk, Tarrytown (north of bridge)
This paved 2.2 mile path also runs along the Hudson. It's also where all the locals go to get Instagram shots with views of Tarrytown Lighthouse and The Tappan Zee Bridge.